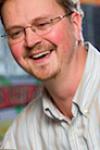 Bradley Fredericks, Proprietor
After growing up in Easton, Massachusetts and graduating from Babson College, Brad left the Northeast for Houston, Texas to work for Exxon as a CPA. When he arrived, he quickly discovered a culinary culture that shared his craving for all things grilled.
Brad enjoyed years of fajitas and barbecue in Houston before heading further west to California where he received his MBA from UCLA. Looking for entrepreneurial opportunities in Boston, he realized that his hometown lacked the smoky, spicy cuisine he enjoyed in Texas and hatched a plan to bring his favorite flavors back North. In 1989, Brad opened Fajitas and 'Ritas, named after the staples of his Texas diet. The laid-back restaurant and bar in Downtown Crossing quickly became a local favorite for authentic margaritas, Tex-Mex cuisine and the Lone Star State's famous smoked barbecue. Over the next decade, Brad opened several other Fajitas and 'Ritas around Boston and partnered with his wife, Maria, to launch Finnegans Wake, a Cambridge restaurant inspired by the cuisine and hospitality of Maria's native Ireland.
In 2011, Brad teamed up with Chef Paul Sussman to bring another one of his favorite food experiences—the backyard grill—to Boston. Together they created Back Deck, a casual destination where guests can enjoy the charcoal-fired food both men love in any weather (even in Boston's bitter winter months!). An advocate for Downtown Crossing since opening Fajitas and 'Ritas there, he jumped on the chance to open his latest concept just down the block on West Street. Drawing on over two decades of success serving the area's business people, visitors and residents, Brad knew that a restaurant with the easygoing appeal of a summer gathering was just what busy, backyard-free Downtown Crossing needed.
Brad currently serves on the Advisory Board for the Downtown Boston Business Improvement District and is active in industry organizations including the Board of the Massachusetts Restaurant Association. A dedicated amateur grill-master, he has set up his Jamaica Plain backyard for year-round outdoor entertaining. When it is his turn to cook for his wife and four children, he breaks out the briquettes to prepare his specialty, a perfectly cooked rib eye steak that serves as the inspiration for Back Deck's signature Cowboy Steak.